News@...25th March 2017

The new Chris Martinic album 'Infinitum' and all albums re-coded to 320kbps

The new Chris Martinic album called 'Infinitum' is progressing well. Sessioning from Robert Forbes, Graeme James (both from Tramtracks) and Adam Martinic should add some exciting variety to the musical styles.
Thanks to improved cloud storage and better download speeds, all of the available free mp3 downloads have been re-coded to 320kbps to give you the best sound possible.
Chris.
---
News@...18th August
2016

The new Chris Martinic album is 'Infinitum'

The new Chris Martinic album currently called 'Infinitum' is underway.
Of note is a radical departure from the musical instrument and recording technologies used on previous albums, new evolutionary development and some collaborative pieces with my son Adam Martinic who is now at the Sydney Uni Conservatorium of Music.
The student body at the Conservatorium seems to have indie folk as its main mindset (judging by the performance night I attended recently). Adam appears to be the only 'contemporary' class student who has chosen prog as his compositional style of choice. For the interested, the link below is to Adam's current +M, EP of three songs part of which debuted at the Con night.
https://www.youtube.com/watch?v=LmSXFkhKB08
I have permission from 'the author' to rewrite/edit portions of his EP as part of the new work which we will re-record shortly.
There will hopefully be a number of other co-authoring guest artists providing I can persuade at least one of them to bring their Theremin to my house (you know who that is for the Yesfanz in Sydney).
The album will be released in digital download formats including 24-bit 96 kHz stereo, 5.1 channel 48 kHz audio, 320k-bit MP3 with artwork and notes in PDF format. I am at this stage planning a limited CD edition but as the popularity of CD's continues asymptotically towards zero, this may not eventuate by the time the CD is released. Another important reason for this is that CD audio (44 kHz 16-bit) is simply too pedestrian in 2016 when many people have vastly superior playback systems (apart from many people not even having a CD player any more).
Chris.
---

News@...Chris Squire passed away 27 June 2015 (aged 67)
Missed by all who knew him
An extraordinary loss of an inspiration to musicians and fans alike. I had the great honour of seeing him again one last time at the conert prior to this great tragedy. Rest in peace Chris
.
[Photo (C) Chris Martinic 2014]
---
News@...17th November 2014

Yes Concert at the State Theatre NSW

An extraordinary show in Sydney. The band performed classic albums such as Close to the Edge and Fragile along with some of their new material. It was a sincere pleasure and privilege to meet the band after the show.

It never ceases to amaze me how after touring and performing they still have the generosity of spirit to tirelessly indulge their fans in signings and conversation. They may not remember their fans but their fans will certainly remember them. (Geoff Downes, Chris Squire, Steve Howe, Alan White and Jon Davison, the current Yes lineup). Yes (in its various forms) played a wonderful part in my musical 'formative years'.
[Photo (C) Chris Martinic 2014]
---
News@...1st October
2014
New album 'Obsession' released 7:30pm 20th September 2014
After over a year of recording, the 'Obsession' album was released at the
Prior Education Centre
Bondi Junction 20th September 2014. The purpose and theme of this album was to explore challenging harmonies/dissonances and pursue development in directions different from work done in the past while still remaining camped in the 'Progressive' world.
I would like to thank the session musicians Graeme James from Tramtracks (drums), Adam Martinic on bass and Paul Martinic assisting on a second drum kit. Also great thanks to the artist, Mr Zhen Yan Zhou for the use of his wonderful painting 'Disassembled' for the album artwork.
The release night was also an under-the-hood look at the digital masters and construction of a couple of tracks, showing off the instruments used and production software and a performance of part of the CD. As a
release night special
, the official CD is packaged with a bonus companion DVD video disc in 48kHz/24-bit 5.1 channel sound (hand made and delivered by mail after the night) and a bonus copy of the previous CD 'Sunflower' thrown in. A special thanks to Mr Rob Prior for his generous use of his premises
---
28th April 2012, Old albums cleaned up as best we could and released as free MP3 downloads

The older albums have been cleaned up as best we could. The early work has a lot of defects (apart from being experimental and 'mucking around'). Wasn't sure if people would think this was up to scratch but it does show the evolution of the later work. Hope you enjoy listening to them. Your comments are welcome.
---
30th September 2011, Chris Martinic and his band perform at the Roxbury Hotel Sydney

Chris and his band will perform as part of a four band lineup for this instalment of the Sydney Fringe Festival at the Roxbury. On the same ticket will be Unitopia, Polyminor, Mike Mills (Toehider). This incarnation of the Band is Chris Martinic with Adam Martinic (Bass), Sam Miles and Nico Buchner (Guitars), Seyon Sanchyan (Drums). Special guest Mr Peng Lou on bamboo flute. Tickets at the door.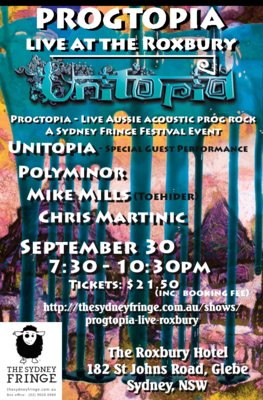 UNITOPIA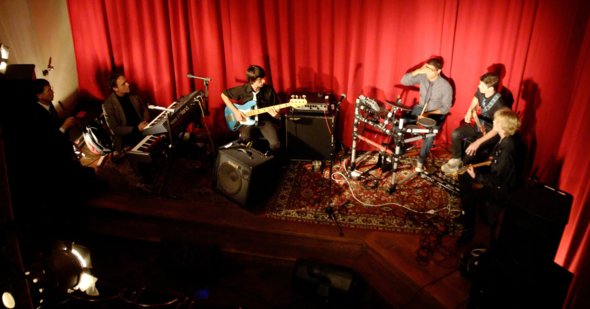 CHRIS MARTINIC BAND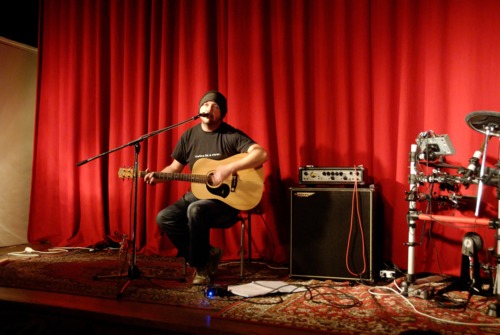 MIKE MILLS
POLYMINOR
---
5th January 2011, my good friend and inspiration Rory J Thomas OAM passed away
The Passing of a friend and Inspiration, Mr Rory J Thomas OAM. My good friend Rory J Thomas, world class educator, performer and composer passed away. In a better place, thank you for your friendship and what you've done for Adam
---
29th August 2010, new CD Sunflower released at the Roxbury Hotel Sydney
A very pleasant Sunday afternoon it was for the release. A big thank you to all those who came, particularly those who encouraged me (and bought CD's too). Special thanks to special guest Mr Rory Thomas OAM for coming and his kind words during his impromptu speech. Also thanks to my son Adam on bass for the performance and Peng Lu for his wonderful work on bamboo flute at such very short notice.
---
28th July, new CD Sunflower to be released at the Roxbury Hotel Sydney
on the 29th of August 2010
After a two year break (mostly spent in China), Chris Martinic returned to Australia in 2009. A return to the recording studio now has "Sunflower" completed. The musical style on the new album builds on the styles developmed in "All the Sound in the Sky" and "Nightfall". The album also explores new territory in terms of syncopation and orchestration. The first track is also the unabridged form of the track "All the Sound in the Sky Part 6" which was featured on the Yesfanz compilation CD of 2008 in abridged form.
The recording for this album started in 2006 and then on-and-off (for various personal reasons) until early 2010, finally completed in July. The release will feature a performance of extracts of the album and a mixture of slides, music and video.

Also featured on the album is a joint track between Uli Krumme and Chris Martinic who both play keyboards on this track. The album also has some wonderful help from artist Louise Steer who created the cover artwork and Bernardo Pulger who did the compositing and design. Hopefully you will find it worth the wait.
---
6 February 2008, Tracks for YesFanz publication CD selected:

The Yesfanz group has selected two Chris Martinic tracks for publication for the forthcoming album "Songs from the South Side of the Sky". An exclusive solo-piano track which is a new instalment in the 'All the Sound in the Sky' series first created in 2002 (album of the same name). I almost never comment on my own music but I was pleased with the way this new track had turned out. This piece won't be featured in this solo-form in the forthcoming Martinic album (as yet unnamed). The second track chosen by Yesfanz was 'In God We Trust' from the 'Nightfall' album of 2006.
---
6 September 2007, Chris Martinic to feature on YesFanz compilation CD:
The Yesfanz group is assembling a cross-section of interesting/like-minded progressive musicians to feature on compilation CD(s). Details as they come to hand.
---
21 January 2007, New Forthcoming Albums:

Sadly, an extremely busy schedule along with working on both Fusion (Martinic/Krumme) and a new personal album (TBA) has taken its toll on the release dates. Will keep you posted on the new releases.
---
29 May 2006, New Collaborative Album Announced:

The new joint album by Chris Martinic and Uli Krumme entitled 'Fusion' is underway. As the name implies, the album will blend Chris's progressive style with Uli's electronica and soundscapes. The results should be quite unpredictable!
---
22 January 2006:

Nightfall (2006)
Has finally been finished. This album was an enormous amount of fun to record and features singers Tina Lambert and Frank Maio. Thanks to all involved including Uli Krumme who let me 'borrow' a few notes from Nagaland which grew into one of the many themes in Nightfall Part 2.